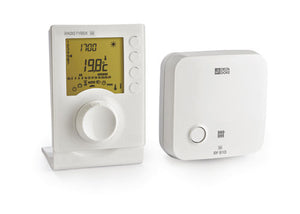 Delta Dore
Delta Dore Tybox 811 W RF Wireless Programmable Room Thermostat 6050535
Regular price
£69.90
£0.00
Delta Dore Tybox 811 W RF 

Tybox 811 W RF programmable thermostat controls automatically the heating current mode during the day and controls the boiler or the circulator according to:

• the required temperature

• the time spent at home, as selected in the programs

• 3 adjustable temperature settings, from 5 to 30°C : Comfort, Setback, Frost Protection

• Programming: daily or weekly, customizable day by day for 1 zone

• Program copy function to duplicate a program over several days

• Override function: you can adjust manually the heating temperature if necessary without changing the programs.

• An absence of 1 to 365 days can be programmed to switch the heating to frost protection mode and cut off the programs during a given amount of time.

• Room temperature or temperature setting display

• Circulator pump anti-seizing function

• Backlit screen

Old stock clearance item, hence the discounted price.


The clearance items do not carry warranty but we will either exchange the product or refund the payment if you return the faulty item to us undamaged within 14 days of receipt.
---
More from this product range