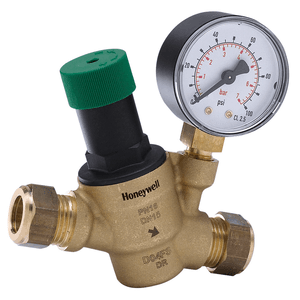 Honeywell
Honeywell D04FM-1/2ZGC Compact Adjustable Pressure Reducing Valve - D04FM-1/2ZGC
Regular price
£25.00
£0.00
Genuine part in its original packaging from old stock, hence the discounted price.
The Honeywell D04FM-1/2ZGC is a 15mm compression adjustable Pressure Reducing Valve - PRV complete with gauge. It is a compact and simply designed cold water mains pressure reducing valve that is able to protect a system against excessive supply pressure.

The device contains a spring loaded, balanced seat which allows it to maintain a constant and accurate outlet pressure regardless of fluctuating incoming supply pressures. The Honeywell D04FM-1/2ZGC compact design makes it the perfect solution for many heating and water system application problems where pressure reduction is needed.

Brand Honeywell
Category Auto Air Vents and PRV's
Part number D04FM-1/2ZGC
Maximum Water Pressure 16 bar
Other Information WRAS Approved
Other Information Maximum operating temperature 40 degrees C
Outlet Pressure 1.5 - 6.0 bar
Size 15mm Compression

Old stock clearance items do not carry warranty but we will either exchange the product or refund the payment if you return the faulty item to us undamaged within 14 days of receipt.
Please check part numbers before ordering. If in doubt, please contact us.